Happy Mother´s Day 💕
Kaixo Bihotz Lovers,
 This day is to pay tribute to all of them. They do everything for us and that´s why we dedicate a whole day to them... a well-deserved day! Whatever happens or we need, a mother is always there. The one you call to tell all the good and the bad, but do you know where this tradition comes from? 
The first celebrations of Mother's Day date back to Ancient Greece, in the celebration of the festivities in honor of Rhea, the mother of the Olympic Gods, venerated by Greeks and Romans, whose characteristics were attributed to the Virgin Mary after the arrival of Christianity.  
But, Mother's Day, as we know it nowadays, is an American tradition, which began after the Civil War. At that time, two women, the poet and activist Julia Ward Howe and the activist Ann Jarvis, began to mobilize the mothers of the fallen soldiers. Women, who until then had remained on the margins of politics, began to mobilize in masse. When Ann Jarvis died, her daughter Anna began a campaign to turn the anniversary of her death into a national holiday in honor of all mothers. So, in 1914, the president of the United States officially instituted that day as Mother's Day.  
Whenever day it is celebrated in your country, it is perfect occasion to show and continue showing your love and wish them a happy Mother's Day. After all, a mother is a mother all year round, right? The calendar gives you 365 opportunities to be together and enjoy each other.  
***
Zorionak amatxo guztiei 

💕
Egun hau mundu osoan zehar dauden ama guztiei omenaldia egiteko da. Gugatik dena egiten dute, eta horregatik egun oso bat eskaintzen diegu, merezitako egun bat! Edozer gertatzen zaigula ere edo edozer behar dugula ere, ama bat beti dago hor laguntzeko prest. Gertatzen zaizkigun gauza on eta txar guztiak kontatzeko deitzen diegu, baina badakizu nondik datorren tradizio hau?  
Uste da Amaren Eguneko lehen ospakizunak Antzinako Grezian kokatzen zirela, Rhea (jainko olinpikoen ama) omenezko jaien ospakizunean, greziar eta erromatarrengatik gurtua. 
 Amaren eguna, ezagutzen dugun bezala, tradizio amerikar batetik sortua, Sezesio Gerraren ondoren hasi zena. Garai hartan bi emakume, Julia Ward Howe poeta eta aktibista, eta Ann Jarvis aktibista, soldadu erorien amak mobilizatzen hasi ziren. Emakumeak, ordura arte politikatik kanpo mantendu egin zirenak, pixkanaka mobilizatzen hasi ziren. Ann Jarvis hil zenean, bere alaba Annak kanpaina bat hasi zuen bere heriotzaren urteurrena ama guztien omenezko festa nazional bihurtzeko. 1914an urtean AEBetako presidenteak Amaren Eguna bezala ezarri zuen ofizialki data hori. 
Gaur egun, herrialde bakoitzak bere data du egun hau ospatzeko, baian edozein delarik ere, ezin hobea da haiekiko maitasuna erakutsi eta Amaren Egun zoriontsua opa diegula erakusteko. Azken finean, ama bat urte osoan ama da, ezta? Egutegiak 365 aukera ematen dizkigu elkarrekin egoteko eta gozatzeko.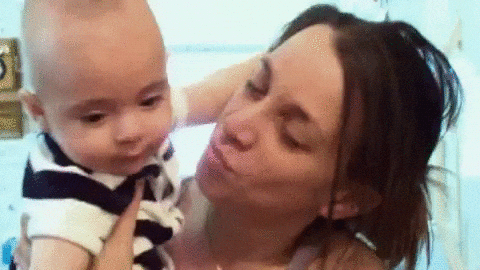 Bihotz Bihotzez 💕